Janome Horizon Memory Craft 9410QC Sewing and Quilting Machine
TAKE YOUR SEWING TO NEW HEIGHTS WITH THE HORIZON MEMORY CRAFT 9410 QC
Introducing the Janome Memory Craft 9410QC Sewing Machine – where creativity meets precision. Elevate your sewing projects with this advanced and versatile machine designed for both quilting and sewing enthusiasts. With an expansive array of stitches and embroidery options, the 9410QC empowers you to bring your artistic visions to life. Its intuitive touchscreen interface simplifies operation, while the precision engineering ensures impeccable stitch quality and consistent results. Seamlessly switch between quilting and sewing modes, and take advantage of the extensive library of built-in designs for endless creative possibilities. The Janome Memory Craft 9410QC is your gateway to a world of inspired craftsmanship and unmatched sewing excellence.
Hi-Definition Quilting is achieved with the Janome exclusive Detachable AcuFeed Flex Layered Fabric Feeding System as an optional accessory. Automatic presser foot lift, variable zig zag for free motion quilting, and includes a Ruler work foot.
Experience Hi-Definition Sewing with 300 built-in stitches, 11 one-step buttonholes, and alphanumeric fonts, including 9mm lettering and numbers. Precision stitching is achieved with the included straight stitch needle plate and 7-piece feed dog. Customize each stitch, including buttonholes, plus save your favorite stitches easily using the 5-inch High-Def Color Screen.
The Horizon Memory Craft 9410QC also features an Enhanced Superior Needle Threader, and Stitch composer stitch creation software!
---
Features List
TECHNOLOGY AND ENGINEERING
Auto Tension system
Stitch composer stitch creation software
USB port
High Def Color 5" LCD Touchscreen
Auto-power off time
Top Loading full rotary hook bobbin system
Superior Needle Threader 2
Memorized needle up/down
One-step needle plate conversion with 2 included plates
Start/Stop button
Speed control slide
ADDITIONAL FEATURES
Locking stitch button
Automatic thread cutter
Twin Needle guard
Easy reverse button
Advanced plate markings
Easy Set Bobbin
Independent bobbin winding motor
11" to the right of the needle
Buttonhole foot with stabilizer plate for thick fabric
Double accessory bins plus upper storage
Full Intensity Lighting System
Snap-on presser feet
HI-DEFINITION QUILTING
Detachable AcuFeed™ Flex Layered Fabric Feeding System (Optional Accessory)
Automatic presser foot lift
Variable zig zag for free motion quilting
Ruler work foot QR
Optional Adjustable knee lifter
HI-DEFINITION SEWING
300 built-in stitches up to 9mm wide, including 4 alphabets
11 one-step buttonholes
7-piece feed dog
Straight stitch needle plate with 3 Needle positions
Maximum stitch width: 9mm
Maximum stitch length: 5mm
Maximum sewing speed: 1,060 SPM
Improved ergonomic shape
---
Main Features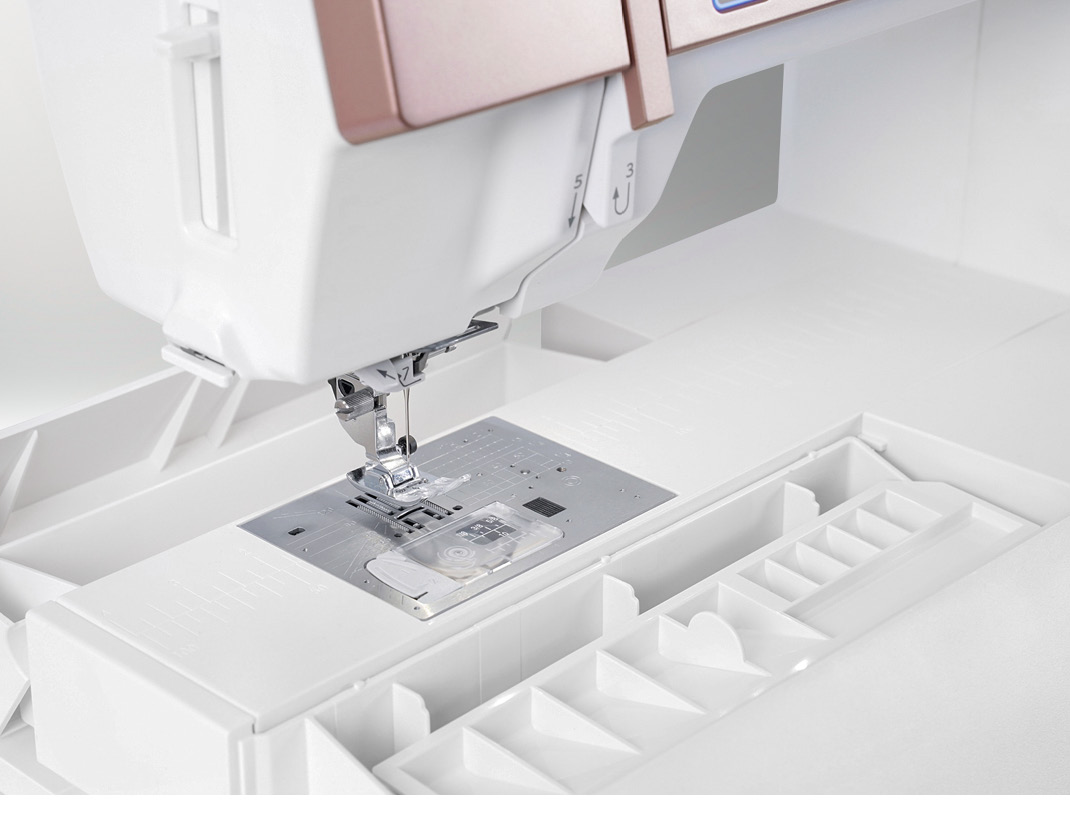 ENHANCED SUPERIOR NEEDLE THREADER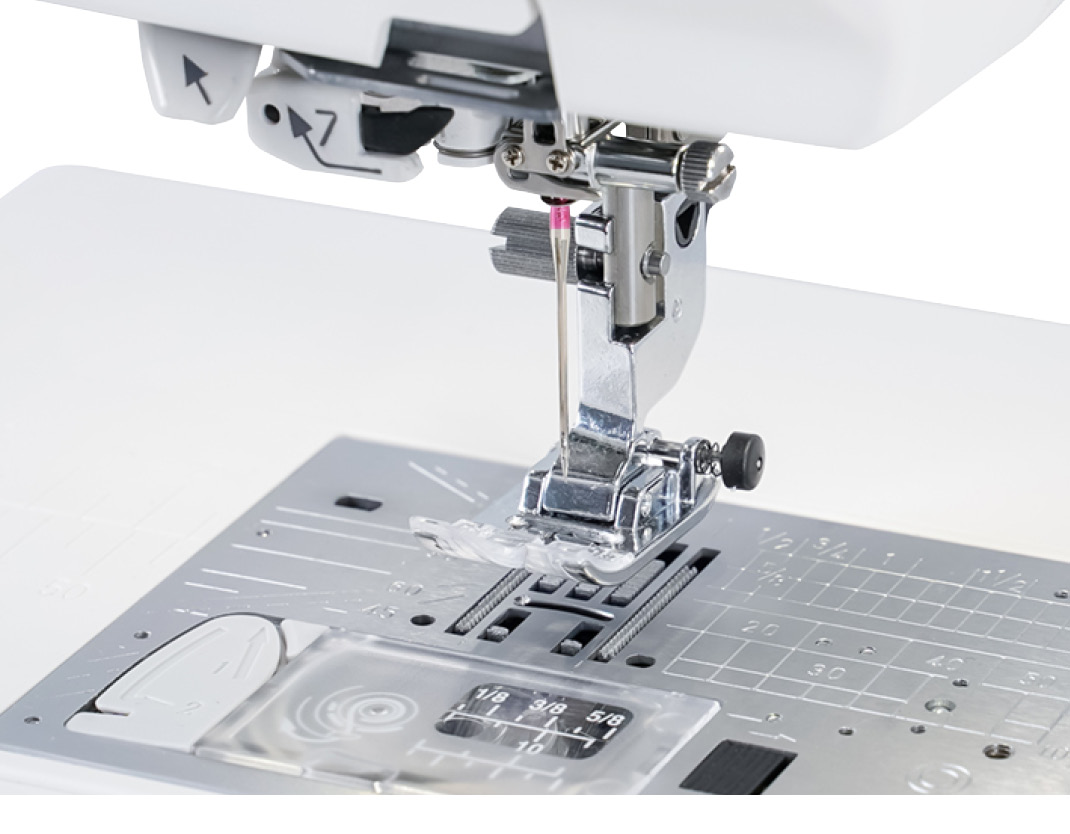 DETACHABLE ACUFEED FLEX LAYERED FABRIC FEEDING SYSTEM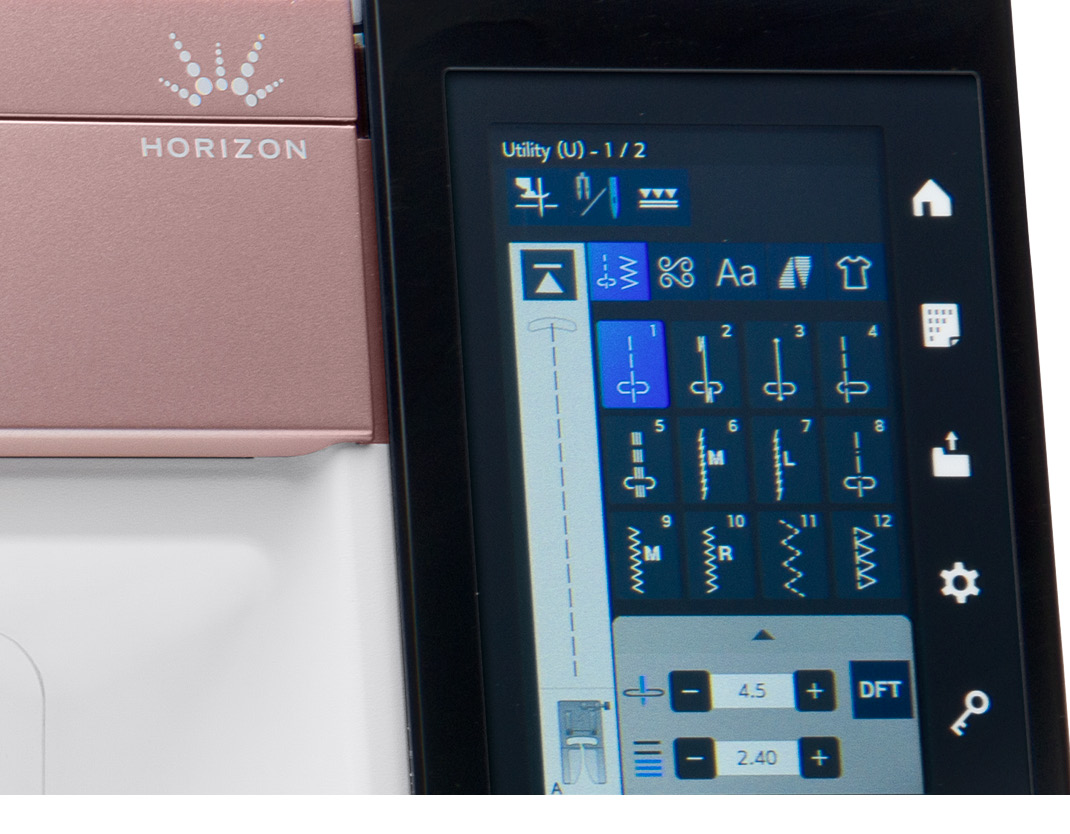 HIGH-DEF 5″ LCD COLOR TOUCHSCREEN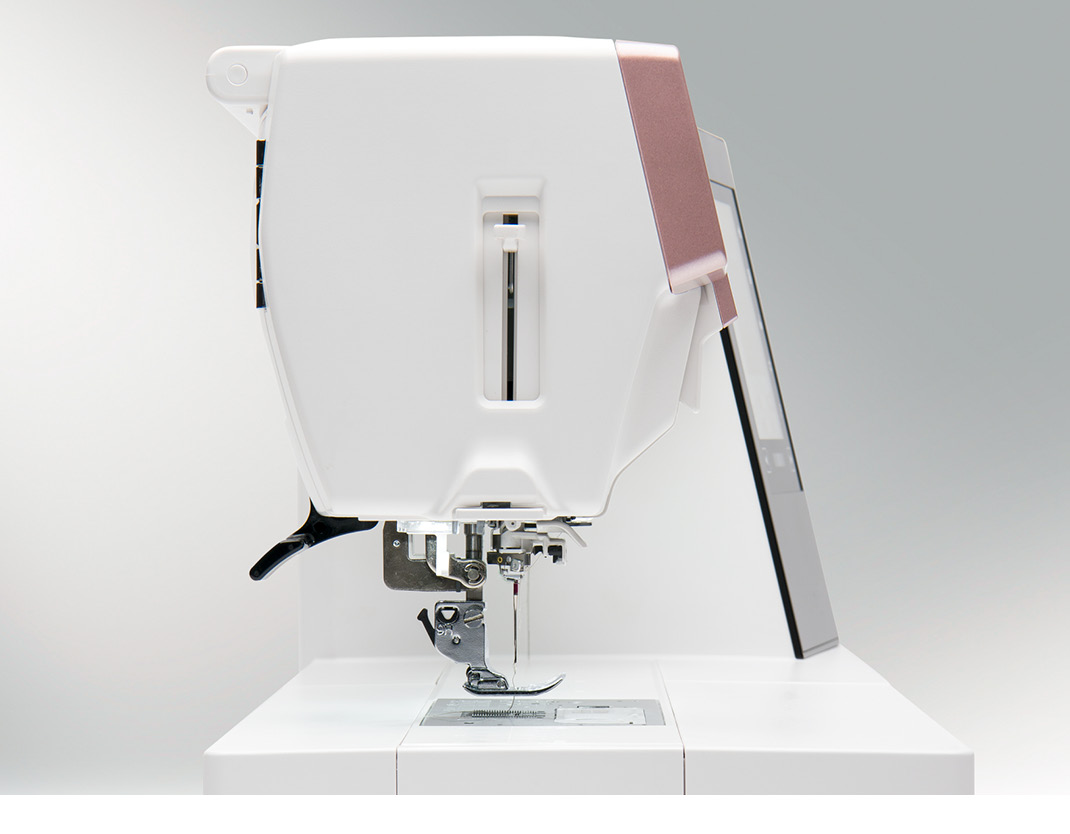 IMPROVED ERGONOMIC DESIGN
---
Standard Accessories
1/4″ Seam Foot O, Top Loading, 9mm Stitch Width Models
Additional spool pin
Automatic Buttonhole Foot R
Blind Hem Foot G (9mm)Bobbin (Standard)
Button Sewing Foot
Button Shank Plate
Darning FootFoot Control C-1036
Free Motion Quilting Closed Toe Foot (QC)
Free Motion Quilting Open Toe Foot (QO)
Free Motion Quilting Zig-Zag Foot (QV)
Large Screwdriver
Lint Brush
Needle Set
Open Toe Satin Stitch Foot
Overcast Foot M: Top Load, 9mm
Quilting Guide Bar
Rolled Hem Foot 2mm
Ruler Work Foot QR
Satin Stitch Foot: 9mm Models
Seam Ripper
Semi-hard fabric cover
Spool Holder (Large)
Spool Holder (Small)
Spool Holder (Special)
Straight Stitch Needle Plate
Touch Panel Stylus
Zig-Zag Foot
Zipper Foot E
---
Specifications
Hook Type: Top Loading Full Rotary Hook Bobbin
Thread Tension Control: Automatic
Maximum Stitch Width: 9mm
Feed System: AcuFeed
Easy Reverse Button: Yes
Bobbin Winding: Independent Motor
Stitch Selection: Touchscreen
Dual Voltage 80v – 240v: No
Cover: Semi-Hard Cover
Number of Stitches: 300
Number of Buttonholes: 11 One-Step Buttonholes
Needle Threader Enhanced Superior Needle Threader
Needle Up Down Memorized
Free Arm: Yes
Drop Feed: Yes
Needle Position: 91 Needle positions
Locking Stitch Button: Yes
Twin Needle Guard: Yes
Number of Stitch Combination: Up to 100 stitches
Last Stitch Recall Capability: Yes
Knee Lift: No
Machine Size: W 21″ x H 12.9″ x D 9.6″
Machine Weight: 30 lbs
Work Space: 11″ x 4.7″
Extra High Presser Foot Lift: Yes
Foot Pressure Adjustment: Yes
Maximum Stitch Length: 5mm