160s

Whatever your passion is, fashion or home decoration, this sewing machine has what you need to express it. Let's begin a sewing adventure focused on you: Your uniqueness. Your passion. Your sewing.


Ambition Essential

Fashion, accessories and decoration for your home – the ambition essential™ sewing machine does it all. - See more at: http://www.pfaff.com/en-US/Machines/ambition-essential#sthash.sI46ACZg.dpuf


Creative 1.5

You are unique! Why not express that in a way that truly reflects your personality and makes you stand out? With the PFAFF® creative™ 1.5 sewing and embroidery machine it is easy and exciting to create one of a kind designs with a stylish twist. By using


Creative Sensation Pro 2

The creative sensation™ pro II sewing and embroidery machine is the latest evolution of PFAFF®'s advanced technology. Only PFAFF® can provide you with the precision and control you need along with an abundance of options for personalization. That's bec


Passport 2.0

Imagine a sewing machine compact enough to whisk away to a sewing class or fit on your bookshelf. Now, imagine this same machine is chock-full of features designed to meet the high demands of the PFAFF® sewer.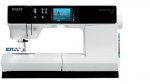 Performance 5.0

A passion for sewing reveals ones true self. Beautiful fabrics that inspire your imagination to run free. Creations that show a love of detail and desire to achieve professional-looking results. You need a sewing machine that delights you - one that offer


Pfaff Passport 3.0

Imagine a sewing machine compact enough to whisk away to a sewing class, or fit in your bookshelf. - See more at: http://www.pfaff.com/en-US/Machines/passport-3-0#sthash.Xb8Cc2qN.dpuf


Quilt Expression 4.2

Quilting is one of the most exciting forms of artistic expression. It needs a sewing machine which fulfills quilters' needs and gives their imagination free rein. Let your creativity run free as you experience the quilt expression™ 4.2 sewing machine. Rea