160s

Whatever your passion is, fashion or home decoration, this sewing machine has what you need to express it. Let's begin a sewing adventure focused on you: Your uniqueness. Your passion. Your sewing.


Ambition Essential

Fashion, accessories and decoration for your home – the ambition essential™ sewing machine does it all. - See more at: http://www.pfaff.com/en-US/Machines/ambition-essential#sthash.sI46ACZg.dpuf


Amelia

If you're on the go as much as you sew, then Amelia is the perfect sewing machine for you. At just 11.2 pounds, this lightweight sewing machine is easy to carry. Bring Amelia to classes, on road trips or to friends' houses.


Anna

No matter what you're sewing, Anna can keep up. With a drop-in bobbin and 15 built-in stitches, Anna is the supportive friend who's always ready to boost your confidence and cheer you on.


Brother NQ700PRW

For the beginner or the experienced seamstress, the Innov-is NQ700PRW from the Q-Series has a 14% larger workspace (versus previous model without extension table) and improved sewing with longer feed dogs and the included zigzag foot. The Innov-is NQ700PR


Creative 1.5

You are unique! Why not express that in a way that truly reflects your personality and makes you stand out? With the PFAFF® creative™ 1.5 sewing and embroidery machine it is easy and exciting to create one of a kind designs with a stylish twist. By using


Innov-is NQ3500D

Part of the Q-Series lineup, the Innov-ís NQ3500D is the ideal machine for hobbyists of all skill levels. Take advantage of the 290 built-in sewing stitches, or make your own with the Brother exclusive enhanced My Custom Stitch™ feature.


Innov-ís NQ550PRW

Find your passion for sewing with the newest addition to the Q-Series line-up, the Innov-ís NQ550PRW. This is the perfect classroom machine as it offers flexibility and convenience at the most affordable price. Its professional-grade quality allows you to


Innov-ís NS2750D

Manufactured with elegance in mind, this machine reflects a sleek design which makes for a great addition to your sewing room table. This completely new design boasts a 5" x 7" embroidery area with embroidery speeds up to 650 spm.


Katherine

Katherine is a multi-talented sewing machine with features fit for all types of projects. She has 190 built-in stitches, numerous included snap-on feet and a free-arm. She can handle anything from home décor to accessories and garments.


Magnolia 7330

The Magnolia 7330 is the most advanced machine in the Magnolia Line. Perfect for creating any kind of home decor or sewing project, it enables you to add your personal flair to your home and wardrobe.


Molly

Molly loves her DIY, individual style, and she always encourages you to add your own touch. This multi-purpose machine includes 25 built-in stitches, a drop-in bobbin and a 1-step buttonhole.


My Style

What's your style? Simple? Chic? Edgy? Elegant? A little mix of it all? Janome's MyStyle100 gives you what you need to make your style all your own.


My Style 100

What's your style? Simple? Chic? Edgy? Elegant? A little mix of it all? Janome's MyStyle100 gives you what you need to make your style all your own.


New Home 2030DC

The machine offers 30 built-in stitches and 3 one-step buttonholes. Easy convenience features include a start/stop button, speed control slider, auto lock button, memorized needle up/down, and easy reverse. It is lightweight for easy portability at just


Passport 2.0

Imagine a sewing machine compact enough to whisk away to a sewing class or fit on your bookshelf. Now, imagine this same machine is chock-full of features designed to meet the high demands of the PFAFF® sewer.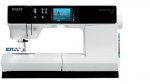 Performance 5.0

A passion for sewing reveals ones true self. Beautiful fabrics that inspire your imagination to run free. Creations that show a love of detail and desire to achieve professional-looking results. You need a sewing machine that delights you - one that offer


Pfaff Passport 3.0

Imagine a sewing machine compact enough to whisk away to a sewing class, or fit in your bookshelf. - See more at: http://www.pfaff.com/en-US/Machines/passport-3-0#sthash.Xb8Cc2qN.dpuf


Project Runway Limited Edition Innov-ís 85e

This lightweight machine is packed full of features, which is great for beginner and experienced seamstresses alike. Make a fashion statement, and let the enhanced Innov-ís 85e be your voice!


Quilt Expression 4.2

Quilting is one of the most exciting forms of artistic expression. It needs a sewing machine which fulfills quilters' needs and gives their imagination free rein. Let your creativity run free as you experience the quilt expression™ 4.2 sewing machine. Rea


Rachel

Ready to take your sewing to the next level? Rachel's the star of any sewing class, and she's here to help you. This computerized sewing machine is equipped with push-button features to make every project easier.


Sashiko 2

Create the look of traditional, hand-work stitching passed down through generations on the Sashiko Machine. Replicate this distinctive and celebrated stitch and add a hand-stitched touch to any project with a machine that is truly the first of its kind.


Skyline s5

A modern sensibility meets the comforts of convenience. The Skyline S5 includes the features to take your sewing to a new level. A spacious bed provides room for larger quilting and home dec projects while its easy convenience features like Automatic Thre



Out of Stock
Skyline s7

The Skyline S7 comes with 240 built-in stitches, including 11 one-step buttonholes and 7 alphabets. Quilters and designers will enjoy the AcuFeed™ Flex Layered Fabric Feeding System and the Automatic Presser Foot Lift.


Skyline s9

The Skyline S9 is the first machine in its series to include both sewing and embroidery. This great machine includes Wi-Fi capability that makes it easy to send embroidery designs from an iPad or computer straight to the machine. In addition, the Skyline


Sophia 2

Trend-setting Sofia2 is full of ideas and makes the perfect friend for all of your embroidery and sewing projects. Compact in size, she always has something to share, like 70 built-in embroidery designs and 168 stitches. Convenient features such as the LC