Aria

When it comes time to set the stage for quilting success, I use the Baby Lock Aria quilting machine. The Baby Lock Aria is packed with features powered by Baby Lock IQ Technology™. That means you'll enjoy quick auto-adjustments and a hassle-free sewing ex


Coronet 16" Long Arm Machine and Frame

The new Baby Lock Coronet longarm quilting machine opens up worlds of possibilities for first-time longarm quilters. The included 5' frame that fits easily into the smallest studio, yet the Coronet has a huge 16" workspace that gives quilters complete con


Cresendo

The Crescendo deluxe sewing and quilting machine is sure to make your next composition a masterpiece. Innovative features powered by Baby Lock IQ Technology™ add to a luxurious sewing and quilting experience.


Crown Jewel 3

With an 18-inch throat space, the Crown Jewel III is the most popular size in longarm quilting machines and is ideal for quilters looking for more workspace and software. This feature-rich machine sews at an impressive 2,200 stitches per minute.


Dream Fabric Quilt Frame

Introducing THE Dream Fabric Frame, the ultimate quilting accessory that will revolutionize the way you quilt using a wide selection of Brother-built machines. Now you can create your dream quilt system by pairing with select Brother machines and our new


DreamWeaver VQ3000

If you've ever dreamed of making incredible quilts and fashion-forward creations, DreamWeaver™ is for you. This versatile quilting and sewing machine is vital for those who love quilting. It was built with you in mind and is the most advanced home-based q


Embellisher

If you're looking for a technique to make your projects stand out in a crowd, then the Embellisher is the machine for you. Sewers, quilters, crafters and embroidery lovers all appreciate the extra touch that this machine can bring to any project.


Jazz

If you're looking for a machine that is Big on Performance and Easy on Price, the new Baby Lock Jazz gives you both. With a 12" workspace and 1,000 stitches per minute, the Baby Lock Jazz offers a big place to create your quilt compositions.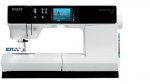 Performance 5.0

A passion for sewing reveals ones true self. Beautiful fabrics that inspire your imagination to run free. Creations that show a love of detail and desire to achieve professional-looking results. You need a sewing machine that delights you - one that offer


Presto

Quick paced for speedy sewing, the new Baby Lock Presto quilting and sewing machine offers 100 built-in stitches and a bright LCD screen; allowing you to select and adjust stitches in a snap. With a zippy 850 stitch-per-minute pace, the Presto makes whipp


Quilt Expression 4.2

Quilting is one of the most exciting forms of artistic expression. It needs a sewing machine which fulfills quilters' needs and gives their imagination free rein. Let your creativity run free as you experience the quilt expression™ 4.2 sewing machine. Rea


Sashiko 2

Create the look of traditional, hand-work stitching passed down through generations on the Sashiko Machine. Replicate this distinctive and celebrated stitch and add a hand-stitched touch to any project with a machine that is truly the first of its kind.


Skyline s5

A modern sensibility meets the comforts of convenience. The Skyline S5 includes the features to take your sewing to a new level. A spacious bed provides room for larger quilting and home dec projects while its easy convenience features like Automatic Thre



Out of Stock
Skyline s7

The Skyline S7 comes with 240 built-in stitches, including 11 one-step buttonholes and 7 alphabets. Quilters and designers will enjoy the AcuFeed™ Flex Layered Fabric Feeding System and the Automatic Presser Foot Lift.


Skyline s9

The Skyline S9 is the first machine in its series to include both sewing and embroidery. This great machine includes Wi-Fi capability that makes it easy to send embroidery designs from an iPad or computer straight to the machine. In addition, the Skyline


Tiara 3

Home quilters interested in finishing projects with polish will love the compact Tiara III quilting machine. This smooth operating machine sews up to 1,800 stitches per minute and comes with its own table so you can be ready to quilt right away.