Accord

If you want to step up your creativity to include embroidery, the new Baby Lock Accord fits the bill.


Alliance

The Alliance single-needle, free-arm machine lets you embroider easily in tight quarters and even on three-dimensional projects.


Aventura

The Baby Lock Aventura sewing and embroidery machine will guide you on your next creative journey. Advanced features and Baby Lock IQ Technology make every step easier. Use the two-way USB connectivity to load your favorite designs to the machine or choos


Brother Innov-is 990D

Add a touch of Disney to your projects with the Innov-is 990D! The Innov-ís 990D is priced to fit your budget but designed to give your projects that customized, high-end look. With 168 built-in sewing stitches, 105 built-in embroidery designs, including


Creative Icon
Creative Sensation Pro 2

The creative sensation™ pro II sewing and embroidery machine is the latest evolution of PFAFF®'s advanced technology. Only PFAFF® can provide you with the precision and control you need along with an abundance of options for personalization. That's bec


Destiny

The Destiny Two embraces the future of sewing. You'll enjoy a larger workspace, a tablet-sized screen, and an impressive selection of built-in stitches and embroidery designs.


Dream Machine 2

When we created THE Dream Machine, our most advanced machine ever, few believed it could be surpassed. However, our visionary designers at Brother never stopped dreaming.


DreamCreator VQ2400

If you have a passion for quilting and sewing, the new DreamCreator™ Innov-ís VQ2400 from the V-Series lineup will thrill you.


DreamMaker™ XE VE2200

Wish you had a mid-priced, high-powered embroidery-only machine? Then the new DreamMaker™ XE, with its industry-first features will help make your dreams come true. That's right – for those with a passion to embroider, the ultimate dream machine is here.


DreamWeaver VQ3000

If you've ever dreamed of making incredible quilts and fashion-forward creations, DreamWeaver™ is for you. This versatile quilting and sewing machine is vital for those who love quilting. It was built with you in mind and is the most advanced home-based q


Entrepreneur Pro

Take a closer look at the revolutionary Entrepreneur® Pro PR1000e, a 10-needle home embroidery machine with all the great features of our popular 6-needle home embroidery machine, plus additional features and functions that deliver professional quality re


Flourish

Expand your imagination and let your creativity blossom with the Baby Lock Flourish. This embroidery machine includes many user-friendly features so you can get started right away.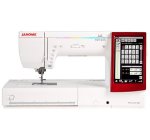 Horizon Memory Craft 14000

The MC14000 is the perfect machine to take projects to a whole new level. The built-in embroidery functions ensure perfection. Create stunning embroidery like never before by utilizing the 350 built-in designs, 11 fonts for monogramming and a 2 & 3 letter


Horizon Memory Craft 15000

When you create with fabric and thread, every project is a journey. Where you end up and how you get there is all up to you... and your machine. And with wireless connect via your PC or iPad and our fastest processor to date, you'll be there in no time.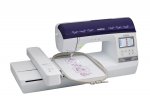 Innov-ís NQ1400E

Choose from any one of the 138 built-in embroidery designs and enjoy editing ease with the ability to resize, rotate, reposition, and combine designs. Embroider all your projects, everything from home décor to T-shirts, on the large 6″ x 10″ e


Innov-is NQ3500D

Part of the Q-Series lineup, the Innov-ís NQ3500D is the ideal machine for hobbyists of all skill levels. Take advantage of the 290 built-in sewing stitches, or make your own with the Brother exclusive enhanced My Custom Stitch™ feature.


Innov-ís NS2750D

Manufactured with elegance in mind, this machine reflects a sleek design which makes for a great addition to your sewing room table. This completely new design boasts a 5" x 7" embroidery area with embroidery speeds up to 650 spm.


Journey

Begin your next embroidery voyage with the Baby Lock Journey. Explore unknown territory with 262 embroidery designs. Embroider them all, big and small with embroidery hoops as large as 7" x 12".


Memory Craft 500E

Now designers can create projects to reflect their personal sense of style with the Memory Craft 500E. It's easy to personalize, embellish and monogram home décor items, garments and accessories.


Memory Craft 9900

Why is creating with fabric and thread so much fun? Because you get to express yourself. The Memory Craft 9900 lets you take your creative expression in any direction you can imagine.


Sophia 2

Trend-setting Sofia2 is full of ideas and makes the perfect friend for all of your embroidery and sewing projects. Compact in size, she always has something to share, like 70 built-in embroidery designs and 168 stitches. Convenient features such as the LC


Unity

Your sewing and embroidery journeys become one with the Baby Lock Unity. A sizeable, 7" x 12" embroidery hoop opens the door to larger embroidery designs.


Valiant 10 Needle

Show your true valor and adventurous spirit with the new multi-needle machine from Baby Lock. This versatile Valiant embroidery machine let's you sew with 10 needles and a 1,000 stitches-per-minute speed.