3034D

Give a professional look to your next project with serged seam finishes. Seams lie flatter and look better with an overlock stitch. Home décor projects often suggest the use of a serger for rolled hems, secure seams and differential feed.


Brother Innov-is 990D

Add a touch of Disney to your projects with the Innov-is 990D! The Innov-ís 990D is priced to fit your budget but designed to give your projects that customized, high-end look. With 168 built-in sewing stitches, 105 built-in embroidery designs, including


Brother NQ700PRW

For the beginner or the experienced seamstress, the Innov-is NQ700PRW from the Q-Series has a 14% larger workspace (versus previous model without extension table) and improved sewing with longer feed dogs and the included zigzag foot. The Innov-is NQ700PR


Dream Fabric Quilt Frame

Introducing THE Dream Fabric Frame, the ultimate quilting accessory that will revolutionize the way you quilt using a wide selection of Brother-built machines. Now you can create your dream quilt system by pairing with select Brother machines and our new


DreamCreator VQ2400

If you have a passion for quilting and sewing, the new DreamCreator™ Innov-ís VQ2400 from the V-Series lineup will thrill you.


DreamMaker™ XE VE2200

Wish you had a mid-priced, high-powered embroidery-only machine? Then the new DreamMaker™ XE, with its industry-first features will help make your dreams come true. That's right – for those with a passion to embroider, the ultimate dream machine is here.


DreamWeaver VQ3000

If you've ever dreamed of making incredible quilts and fashion-forward creations, DreamWeaver™ is for you. This versatile quilting and sewing machine is vital for those who love quilting. It was built with you in mind and is the most advanced home-based q


Entrepreneur Pro

Take a closer look at the revolutionary Entrepreneur® Pro PR1000e, a 10-needle home embroidery machine with all the great features of our popular 6-needle home embroidery machine, plus additional features and functions that deliver professional quality re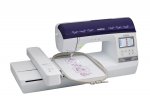 Innov-ís NQ1400E

Choose from any one of the 138 built-in embroidery designs and enjoy editing ease with the ability to resize, rotate, reposition, and combine designs. Embroider all your projects, everything from home décor to T-shirts, on the large 6″ x 10″ e


Innov-is NQ3500D

Part of the Q-Series lineup, the Innov-ís NQ3500D is the ideal machine for hobbyists of all skill levels. Take advantage of the 290 built-in sewing stitches, or make your own with the Brother exclusive enhanced My Custom Stitch™ feature.


Innov-ís NQ550PRW

Find your passion for sewing with the newest addition to the Q-Series line-up, the Innov-ís NQ550PRW. This is the perfect classroom machine as it offers flexibility and convenience at the most affordable price. Its professional-grade quality allows you to


Innov-ís NS2750D

Manufactured with elegance in mind, this machine reflects a sleek design which makes for a great addition to your sewing room table. This completely new design boasts a 5" x 7" embroidery area with embroidery speeds up to 650 spm.


Project Runway Limited Edition Innov-ís 85e

This lightweight machine is packed full of features, which is great for beginner and experienced seamstresses alike. Make a fashion statement, and let the enhanced Innov-ís 85e be your voice!